Gluing diamante rhinestones onto a pair of red ADIDAS running trainers can mean only one thing again… it is time for the annual, fancy dress, multi lap 'Wild One' marathon.
In its fourth successful year, this race never disappoints. The chosen fancy dress theme was musicals and, like every year, was well attended with fabulous concept and costume ideas ranging from High School Musical to Grease to the Wizard of Oz.
The race, organised and hosted by the Black Pears Joggers, is in honour of Stuart Wild, a much revered founding member who had a far reaching vision of hosting a competition to include everyone. By opening the main event up to teams of 5 or 2, as well as the usual solo crew, he achieved his legacy, although sadly he was unable to actually see it brought to life. The race lives on through his family, the club and is named after him with love.
Like last year, this year's venue was Bishop Perowne C of E College, a relocation from the previously utilised Perdiswell Leisure Centre due to building work. The wilderness of under and overgrowth masking the multi terrain, hilly course of concrete and grass, across a playing field and through a wooded area, was painstakingly cleared by dedicated club volunteers.
On another scorching July day, the littlies stormed the course for their 'Wild Mile' lap at 9am and the first young man home was Ethan Gale in 5.09, closely followed by Jack Cale in 5.30 successfully defending his second place from last year and eagerly encouraged by his BPJ dad Dan, who later went on to win the team event with his group. First girl across the line was Estelle Eacock, daughter to proud and regular running BPJ parents Nick and Katy Eacock, and delightfully dressed in the same costume theme. The second girl was Alex Lowe.
The main marathon event kicked off at 9.30. An array of glorious costumes revealed umpa lumpas mingling with delicate ballet dancers, pink ladies cavorting with nuns and cats sneaking between the standard lycra clad runner, everyone smiling, laughing and in splendid spirits as they set off for their 4 – 20 laps of the course. So much time, effort and energy goes into the preparation of this race, not least of which is poured lovingly and painstakingly into constructing the intricate costumes.
A BPJ event is always going to attract a high local contingent and first home were the incredibly speedy duo of Rob Bowery and Chris Attwood, with the team name Last Minute.com in the incredible time of 2.50.36. A phenomenal achievement in the 27 degree heat. A mere 11 minutes later the second team and pair to finish, were also flying the Black Pear Jogger flag.
Ian Wild and Leo Taggio's success was a double whammy as Ian is Stuart's son and they were representing Startins Mitsubishi, one of the very generous event sponsors. The blistering competition between the two teams of pairs saw the Startins Mitsubishi team also storm home in the exceptionally fast time of 3.01.48.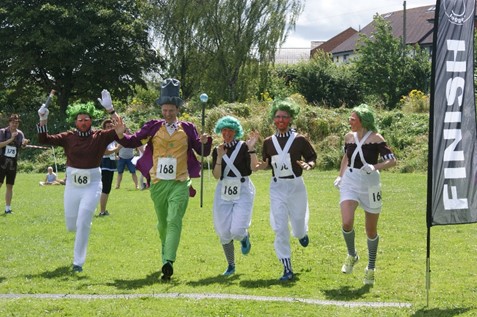 The first team winners were also exclusively Black Pears although you would not have known from their fabulous green wigs and orange faces. The Wonky Pears breezed over the finish line in an amazing 3.13.11 and comprised James Matheson, Emily Seward, Peter Darwen, Dan Cale and Vicki Watkins.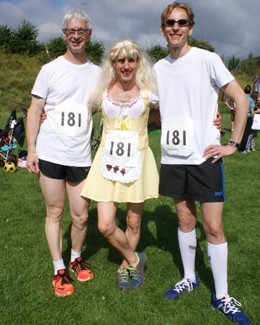 The second team, aptly named Goldilocks and the 4 bears epitomised the spirit of wild one for me, constant smiles and a man looking better in a dress than most women. Stuart loved dressing up and frequently donned fancy dress to raise money for charity during his 100 marathon debuts. He would have been delighted with everyone's effort. Chris and Gail Berry, Dave Bessant, who has just completed an incredible triathlon achievement, Kevin Garness and Matt Lessimore, all but one members of Black Pear Joggers comprised this team.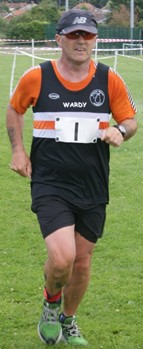 First solo runner was BPJ Mick Ward, who is having a particularly great 'run of wins' at the moment and seems to be in his prime at 52. He came in nearly 45 minutes ahead of the next man home, Keith James. Mick's time was 3.39.35 and Keith, from Lliswerry Runners, finished in 4.24.22. The first solo lady completed in a highly respectable time of 4.32.44, Joan Clarke from Stourbridge Runners and second lady was once again a Black Pear, our very own Cindy Richards in 4.50.27.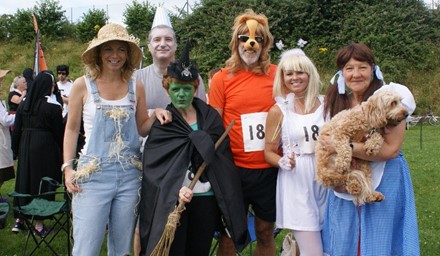 Last but by no means least, the final official prize of the day was awarded for the best fancy dress and went to the excellent Toto's Trotters. They even had a real life Toto who tried desperately to see off most of the competition in loud and demonstrative fashion, much to the delight of all the onlookers. Her enthusiasm was infectious and merely added to the days' laughter as she chased her dad down at breakneck speed. She was so fast, we wished we'd signed her up to Dotty's rainbow Crew. Well done Yvonne and Richard Ralphs, Lisa and Russ Eaton and Gerry Rudolf. Lovely to have support from our local Parkrun troop.
A special mention goes to the Pershore Plum (and Evesham Vale) team Les Miserables. Cinq who prove their dedication week in week out without fail when they rock up to Worcester parkrun of a Saturday morning, grins on their faces and ever increasing speed and durability, completing the course, run, walk, rain or shine, your progress is both admirable and palpable ladies. Delighted you could be a part of the event Sian Thomas, Lynsey Hall, Sarah Hemmings, Sally Nash and Leanne Dean and long may your individual and group success continue.
Prizes were awarded to all finishing participants containing a BPJ buff, medal, Marks and Spencers vouchers for the winners (sweets for everyone else) and a punnet of strawberries. Thanks must go to all the sponsors and contributors: Startin Mitsubishi, Marks and Spencers, Costa Coffee, Cliff and Laylock Garden Centre, Gareth Jones, Kevin and Elaine, Busbys Farm, Alan and Bishop Perowne C of E College. Extra special mention to Claire Shacklock our Race Director and her teams of volunteers for their amazing hard work spent organising, co-ordinating, liaising and negotiating. Let's not forget the fantastic marshals without whom the show could not go on. Their relentless encouragement, direction, cheering and motivation spurred everyone on and was punctuated by an eternal smile and supportive words.

All the event proceeds go to our nominated Worcester based charities: Maggs Day Centre and Worcestershire Young Carers (YSS). Maggs Day Centre, founded in 1984, is dedicated to helping the homeless people of Worcester and offers them a safe and warm place to go after a night sleeping rough on the street. Open five days a week, the day centre provides homeless people with a safe and warm place where they can use the toilet, take a shower and have a hot and healthy meal. Worcestershire Young Carers aims to support children and young people age 7 to 25 years who help to look after a parent, guardian or sibling within their home, who is ill or has a disability. This includes caring for people who have issues with drugs or alcohol or have a mental health difficulty.
The event wouldn't be the same without the support of the families and friends on the day and much gratitude goes to the many other participating clubs that make the event so versatile. These were:
| | | |
| --- | --- | --- |
| Bromsgrove Redditch | Pershore Plum Plodders | Kingfisher Harriers |
| Malvern Joggers | Evesham Vale | Southville Running Club |
| Massey Ferguson Coventry | Stourbridge Runners | 100 marathon club |
| Birchfield Harriers | Lliswerry Runners | Tipton Harriers |
| Hereford Ghost Runners | Vegetarian athletic and cycling club | JTA Fit |
All in all this is ALWAYS a super fun, inclusive, entertaining, family event. Mums and dads run with their children, all abilities and age groups are represented and greeted with open arms, music and food are served up with a massive dose of laughter and even the weather gods seem to shine down on us. So, mark it in your diaries for next year and let the BPJ family welcome you to our inimitable style of running.
Photos courtesy of Peter Darwen on Flickr: https://www.flickr.com/photos/blackpearjoggers/albums
View the full race results.