…Well it was yesterday actually, but all the same, there was a great turn out of Black Pear Joggers at Wyre Forest half marathon yesterday.
Not one for the faint hearted, this undulating off-road course takes in the lovely forest scenery of a local beauty spot. It is run exclusively on forest paths and tracks and is a fantastic cross country experience. Muddy trails and hills that put Malvern to shame.
At a time when race entry pricing seems to be rising far in excess of  inflationary recommendations, this half marathon is (and remains) VERY reasonably priced, boasting generous prizes, great sign posting, multiple water stations and excellent volunteer support.
Organised by the Kidderminster Amazing Feet Running Club, this annual event is limited to 350 entries due to forestry commission restrictions and always sells quickly with great representation from some highly prestigious local clubs.
There were 18 of us flying the BPJ colours yesterday and a few supporters to bellow on the finishers in true encouraging style. Matt Davis was our first man home coming in 9th overall, 3rd in his category position and boasting an exceptional time of 1.32.30.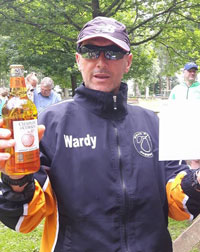 Worthy of extra note was the incredible performance from Mick Ward, 1st in his veteran age category, 16th overall in an incredible time of 1.35.22, Mick completed John O'Groats to Land's End during June 2016, a colossal 936 miles and only the Saturday before won his age category at the new Hanbury Hall parkrun.
Claire Shacklock, our club secretary and race director, took a stonking 15 minutes off her time from last year, putting in a highly respectable time of 2.09.24 and our veteran ladies, Gay Grove and Liz Stacey, forever showing us up with amazing performances, both came 2nd in their respective age categories of 60 and 65+. A special mention goes to Ant Jones who completed Upton Triathlon the previous day. We have some hard core athletes in our club.
Full race results
| | | | | | | | |
| --- | --- | --- | --- | --- | --- | --- | --- |
| Position | Time | Race No | Surname | First name | Club | Category | Category Position |
| 9 | 01:32:30 | 275 | Davis | Matthew | Black Pear Joggers | SM | 3 |
| 16 | 01:35:22 | 109 | Ward | Mick | Black Pear Joggers | M50 | 1 |
| 28 | 01:39:39 | 201 | Griffiths | Clive | Black Pear Joggers | M55 | 3 |
| 46 | 01:45:39 | 251 | Rouse | Sven | Black Pear Joggers | M40 | 9 |
| 54 | 01:47:15 | 160 | Moon | Matt | Black Pear Joggers | SM | 22 |
| 142 | 02:04:19 | 81 | Burkes | Gary | Black Pear Joggers | M45 | 22 |
| 143 | 02:04:21 | 243 | Shacklock | David | Black Pear Joggers | SM | 44 |
| 155 | 02:06:28 | 116 | Rushton | Donna | Black Pear Joggers | F40 | 9 |
| 169 | 02:09:24 | 231 | Shacklock | Clare | Black Pear Joggers | SF | 19 |
| 179 | 02:12:12 | 1 | Walker | Ian | Black Pear Joggers | SM | 51 |
| 180 | 02:12:12 | 2 | Baldwin | Rebecca | Black Pear Joggers | SF | 21 |
| 199 | 02:16:25 | 42 | Milligan | Colin | Black Pear Joggers | M40 | 25 |
| 205 | 02:18:07 | 117 | Gleave | Alison | Black Pear Joggers | F40 | 18 |
| 206 | 02:18:07 | 250 | Seward | Emily | Black Pear Joggers | F40 | 19 |
| 209 | 02:18:41 | 269 | Jones | Anthony | Black Pear Joggers | M40 | 27 |
| 258 | 02:36:49 | 110 | Kennish | Tracy | Black Pear Joggers | F45 | 16 |
| 273 | 02:42:31 | 336 | Grove | Gay | Black Pear Joggers | F65 | 2 |
| 282 | 02:53:21 | 280 | Stacey | Liz | Black Pear Joggers | F60 | 2 |