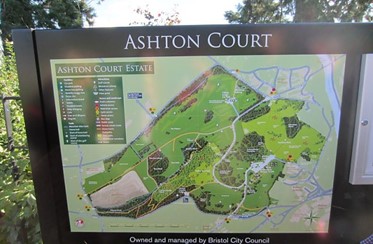 If Carlsberg made Ultra events… March 4th 2017 saw the successful completion of another Green Man Ultra, one of Steve Worrallo from Ultra Running Limited's longest standing and most popular ultra races. The 400 places sell out every year and if anybody should by any remote chance need to drop out, there is a plentiful waiting list to step into the breach. So popular is this race, however, that in its 5 year history, it is pretty rare that anyone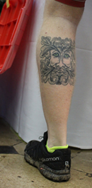 does and this year was no exception.
Ashton estate map
So why the name?

This ultra is based and has been adapted from the original individual 'Green man challenge' as devised by the Gaveller, Chris Bloor, in order to acquire Woodwose status. When you undertake the individual challenge you start at a large stone carving of the Green Man within the beautiful Ashton Court grounds, Bristol. The logistics involved in organising a multi person event, that Steve specialises in, meant this was no longer feasible as a starting point, but the course does still take in this iconic landmark and retains its name for posterity. Green Man stone image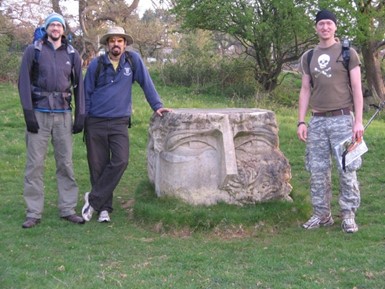 Two distances

There are two route options, a 30 and a 45 miler. Kicking off promptly at 8am, the 45 miler closely follows the same route as the "Green Man Challenge" along the Community Forest Path around the city of Bristol, which was developed by the Forest of Avon Trust team. The 30 mile runners set off at 11am but start further along the same picturesque route. Route maps including elevation information can be found here.
The course

One of the reasons this is so well loved by seasoned and new ultra runners alike, is mainly due to this undulating cross country course. At any time of year it would provide a challenging landscape, but, after the heavy rain fall that accompanied this year's race, the terrain became even heavier under foot.
What do you get?

So under these conditions what else do you get for your money over and above the usual well executed and excellently organised events that Ultra Running Limited organise as standard? The run is under race conditions. You will be competing with other like-minded distance enthusiasts and will no longer have to battle the course solo. 4 check-points are set up along the route not only to monitor your times & wellbeing, but also to provide you with water and sustenance (if the latter is included in your package). Check point 1 has malt loaf, squash and water. There is also an outside caterer Wandering Food stationed at CP2 and 3 that provides a selection of food including sandwiches, malt loaf, crisps, savoury items, jelly babies, red bull, coke, tea etc. Supporters can also purchase food & drink items from them at these stops. The Ashton Court chef provided the chilli and rice to the finish.

At the end of the race finishers will receive

(a) A bespoke Green Man Technical T-Shirt

(b) A bespoke Green Man medal

(c) A signed certificate to confirm entitlement to either a Woodwose or a Woodwight status (GMU45 only).

The event adheres to the 12 hour cut off point like Chris Bloor's challenge and the check point cut-off times are set accordingly. If you fall outside of this time frame at any of the check points you will be advised that you have failed the trial and can no longer continue. Anyone who completes within the set time will be entitled to be called a Woodwose and their name entered in the Forestal Book of the Honourable Order of Woodwoses, which can be found in digital form along the pages at Gaveller's Web blog.

Real Time Chip Timing

Steve provides services to the competitors' support crews as well so they can monitor progress and leave personal messages of encouragement and support. To do this, the race benefits from real time chip-timing through check points 1, 2 and 3 and at the finish at Ashton Court Mansion. Check point 4 is a manual timed point.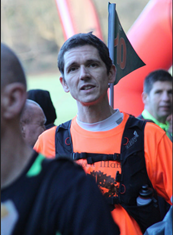 Time Lords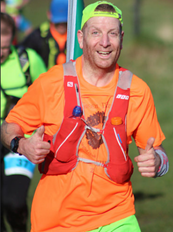 As with many marathon races today, Ultra Running Limited decided to introduce the concept of 'Time Lords' back in 2015. This is not new in the racing word, but pioneering within ultra events. If you are concerned about navigating and concentrating on going the distance at the same time, Time Lords are non-competitive entrants who try their best to run at specific times – 9hr, 10hr, 11hr and back of the pack 12hr.
Time Lords will be easily recognisable as they will be sporting bright orange personalised technical t-shirts and will have their hour marker flag attached to their back-packs.

Navigation

The course is self-navigation and, as mentioned above, is tough. Steve Worrallo is keen to ease this burden wherever he can though to ensure as many of the entrants as possible complete the challenge. Like the provision of Time Lords, he offers free downloadable route maps and gpx files and, for those less confident at map reading skills, you can hire a Garmin pre-loaded with the route. He makes it so easy that all you have left to do is the minor feat of the 30 or 45 mile challenge itself. What is not to like?
Giving back


Ultra Running Limited believe in giving back to the environment that benefits their business and as such Steve donates a portion of the entry fee towards the upkeep of the Community Forest Path. Steve helps to maintain and respect the beautiful countryside so that runners can return year after year, ensuring that no rubbish is left along the route and all farm gates are kept closed after runners pass through. Donations to date amount to £1,100.00.

There is also the option to 'earn' a charity place for a nominal cost of £10 to cover admin fees by raising a minimum of £200 for URL events nominated charity Kids Run Free.  Kids Run Free organises fun, running based activities for children in their local parks and schools. Currently they have two children's running programmes: Kids Run Free Running Races and Kids' Marathon. 
The Awards

Everyone who finishes in the allotted time receives a Green man Ultra medal and race technical t- shirt. Special trophies go to the following categories:
Men's & Ladies 1st, 2nd & 3rd in both GMU45 & GMU30

Men's & Ladies Veteran 1st in both GMU45 & GMU30

Team winners GMU45 only (you need to have named your team prior to race day)

Canicross winner GMU45

Barefoot Men's & Ladies winners GMU45 & GMU30 (you need to have confirmed that you are running barefoot before race day)

The first male and female and first veteran male and female of both the GMU45 and the GMU30 automatically qualify for free entry into the following years' race.

This year's worthy winners were:

Green man Ultra 45 miles

Green Man Ultra 30 miles

1st

2nd

3rd

1st

2nd

3rd

Men

Jarlath McKenna

Sam Tabberner

Mark Ducker

Marcus Kropacsy

John Cox

David Honeywill

Ladies

Phil Richards

Lynette Porter

Rachel Fawcett

Vanessa Hawkins

Claire Graham

Bridget Pairaudeau

Veteran men

Chris Harris

N/A

N/A

Steve Lewis

N/A

N/A

Veteran ladies

N/A

N/A

N/A

Vanessa Hawkins

N/A

N/A

Male Canicross

Steve Peters

N/A

N/A

N/A

N/A

N/A

Female Canicross

Bubbles Young

N/A

N/A

N/A

N/A

N/A
Positions 1, 2 and 3 GMU45 finishers at the start.

Sam Tabberner is in the blue buff behind Jarlath (middle arms folded), who was about 45 minutes ahead of all his competitors and set a new course record of 5.48. Mark is to Jarlath's right.

Sam Tabberner

Mark Ducker

Phil Richards

Lynette Porter

Rachel Fawcett
All photos, courtesy of Mick Kennish-Ward, can be viewed in original form here:
So if you have consumed all of this and are still not convinced that this is an ultra challenge not to be missed, well don't just take my word for it, judge for yourself from the blog quotes and praise that is heaped on the event generally.
Links:
Steve's other events can be found at ultrarunning.co.uk and if you volunteer as a marshal on one of his events, you can benefit from free entry to one of his other ones.